Summary
First I was to select a topic that was to be either informational or entertaining, and I decided to go with informational, or rather a "How To Tutorial", on working with PSD Actions. I choose this topic because it's something I learned recently and I realized how effective this tool is at displaying designs on variations of media. It also gives me the opportunity to help and teach others, but it also allows me to share a particle of my personality to the World.
An Effective solution was developed as I came across a major problem. That problem was with my first podcast proposal. I originally decided to do it on the 4 Principles of Design, however I realized quickly that creating informational podcast about something that can be easily taught just by narration alone seemed mute. So I changed it to something more desirable and applicable to future viewers. Now in reference to problems with software, I didn't have any, even though it was my first time playing with Final Cut Pro. The reason behind that is the programs have similar features to one another, they are user friendly, and I pick up applications rather quickly.
Please note that I created the mock up website that was used in the Podcast as well as achieved all the requirements for the project. Also note that I borrowed the rendered Apple 27″ iMac template from PSDcovers.
Requirements
2-3 minutes long and less than 5mb in file size.
Created in iMovie, Adobe Premier, or Final Cut Pro.
H264 codec to create an mp4 video.
Intro and conclusion slides designed in Photoshop that includes: name, title, and contact info.
List all sources and credits in the conclusion.
Still images or video footage
Your own narration audio track.
Your own GarageBand developed music.
External Mic for improved sound quality.
Upload a HD version of podcast to YouTube and the 5MB .mp4 to your personal website.
Programs Used
Final Cut Pro
This was the Video Editing Software I used to combine all the audio, video, and .psd files. I decided to go with this, instead of iMovie, because it had very similar features and then some.
GarageBand
This program was used to create music for the podcast. I wanted it to be a simple beat, and it didn't fail do deliver.
QuickTime Player
I used this to screen record my interaction with the desktop. It's very effective, and it's free.
HandBrake
This program was used to convert the video format from the .m4v to a .mp4. It also had very intuited options to optimize the compression to fit set standards for YouTube and this Website.
Final Cut Pro Interaction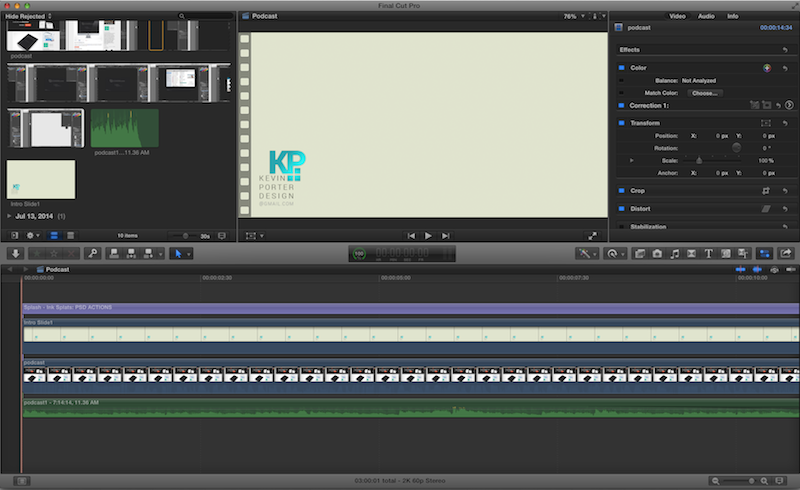 YouTube, 5MB Version, & Zip
Kevin_Porter_Podcast_V112_A112.mp4